Events
At Crossroads Church
June 1
This event is to help raise money for the Crossroads Youth 2019 Mission trip: the middle & high school youth of Crossroads are partnering with Elder Orphan Care to help the elderly in the Concord/Kannapolis area with needed home repairs and yard work.
MUSIC, SILENT AUCTION, FOOD, VENDORS & MORE!! TROPHY OR GIVEAWAY TO BEST OF SHOW!! Hosted on the front lawn at Crossroads.
Car Check-in: 10:00am | Car Show Starts: 11:00am
$20/Car. Registration includes t-shirt & gift bag.
All Makes and Models Welcome! Register by May 20 to secure a shirt!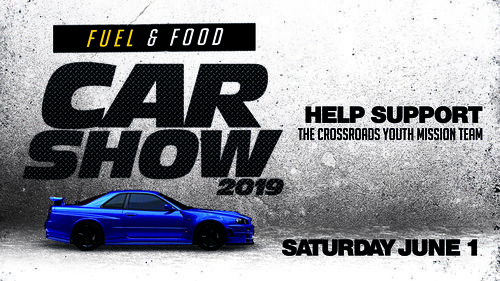 Panera Bread Colombia Team Fundraiser
June 2 | 4:00pm-8:00pm
The Colombia Team is having a fundraiser at Panera Bread, 1485 Concord Pkwy N, Concord on Sun, June 2nd from 4-8pm. You must tell them that you are there to support the Crossroads Colombia Team in order for them to get 20% of the sales. Panera prefers that the person have a copy of the flyer either on paper or electronically.
June 7 | 11:00am-7:00pm
The Slovenia Mission Team is pre-selling Port a Pit chicken halves along with homemade grean beans, corn and a roll for $10/plate. Purchase online or in advance through a team member: Autry & Kim Dawsey, Warren & Traci Gilmore, Kim Trull and Nancy Friend. Desserts will be available for an additional purchase. Pick up on Friday, June 7, between 11am - 7pm at Crossroads Church. All proceeds will help send the mission team to Slovenia.
July 15-18 | 6:00pm-8:00pm
Join us for VBS as we explore God's goodness and celebrate a ferocious faith that powers us through this wild life. Children 3 (fully potty trained) up to 5th grade. FREE!!! Optional $7 t-shirt purchase.